Valley Tech Systems (VTS) is proud to be partnering with the University of California, Davis Electrical and Computer Engineering Department (UCD ECE) to support the talented engineers of tomorrow's work force.
The UCD ECE VTS Fellowship will support undergraduate and graduate research in the areas of signals intelligence, AI/ML, and user experience (Ux), fueling national security innovations for the Department of Defense. VTS joins UCD ECE in congratulating the inaugural fellowship candidates for 2023.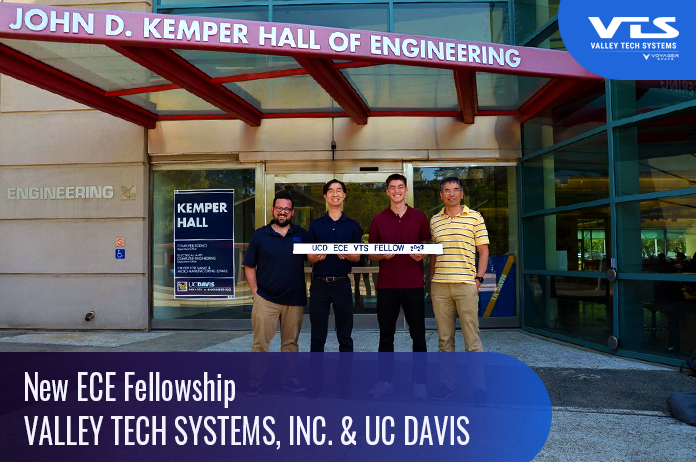 Valley Tech Systems, Inc., a Voyager Space company, is an innovative engineering company that is leading the way in controllable solid propulsion and open architecture airborne intelligence, surveillance, and reconnaissance (ISR) technologies. Valley Tech Systems' cutting-edge solutions address technology needs across the U.S. Government and commercial space industry. Founded in 2007, VTS has headquarters in Folsom, California, an ISR systems office in Dayton, Ohio, and a propulsion development facility in Reno, Nevada.
About Voyager Space
Media Contact: Abby Dickes, abby.dickes@voyagerspace.com
Voyager Space is a global leader in space exploration. Voyager's long-term mission is to create a vertically integrated, publicly traded NewSpace company capable of delivering any space mission humans can conceive. The firm's first-in-industry model is uniquely tailored to support the growth needs of commercial space companies by replacing traditional private capital models with a longer-term approach that provides permanent capital. To learn more about Voyager Space, please visit: https://voyagerspace.com/ and follow @VoyagerSH on Twitter.
Cautionary Statement Concerning Forward-Looking Statements
This press release contains "forward-looking statements." All statements, other than statements of historical fact, including those with respect to Voyager Space Holdings, Inc.'s (the "Company's") mission statement and growth strategy, are "forward-looking statements." Although the Company's management believes that such forward-looking statements are reasonable, it cannot guarantee that such expectations are, or will be, correct. These forward-looking statements involve many risks and uncertainties, which could cause the Company's future results to differ materially from those anticipated. Potential risks and uncertainties include, among others, general economic conditions and conditions affecting the industries in which the Company operates; the uncertainty of regulatory requirements and approvals; and the ability to obtain necessary financing on acceptable terms or at all. Readers should not place any undue reliance on forward-looking statements since they involve these known and unknown uncertainties and other factors which are, in some cases, beyond the Company's control and which could, and likely will, materially affect actual results, levels of activity, performance or achievements. Any forward-looking statement reflects the Company's current views with respect to future events and is subject to these and other risks, uncertainties and assumptions relating to operations, results of operations, growth strategy and liquidity. The Company assumes no obligation to publicly update or revise these forward-looking statements for any reason, or to update the reasons actual results could differ materially from those anticipated in these forward-looking statements, even if new information becomes available in the future.